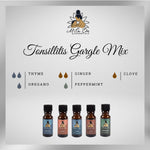 Inflammation of the tonsils can be a nightmare. Try this recipe when you are experiencing difficulty swallowing and tender, inflamed lymph nodes on the sides of your neck. 
Tonsillitis Gargle Mix
Add 2 drops of Thyme
1 drop of Oregano
2 drops of Ginger
1 drop of Peppermint
1 drop of Clove
Add to 4oz of distilled or bottled water and gargle as often as needed for relief. Do not swallow.
Rollerball
Add the same ingredients as above to a rollerball filled with your favorite Mila Eve Essentials Carrier Oil. You can apply to your neck, chest, down the spine and/or under the feet as often as needed. 
For more severe cases, use the rollerball on the neck every 10 minutes for the first hour, every 20 mins the second hour, then hourly after that. Apply 1 drop of Oregano and 1 drop of Self Defense neat under the bottoms of the feet every 3 hours until symptoms subside. 
Discover more essentials for boosting the immune system.
Always follow the instructions of your medical advisors. Use natural remedies in conjunction with alternative medicines when possible.