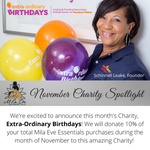 We're so excited to announce that
Extra-ordinary Birthdays
is our November Give back recipient! 10% of your purchases this month will be donated to this wonderful non-profit organization who is making a major impact in the community.
Extra-Ordinary Birthdays
mission is to transform the lives of homeless children by creating personalized birthday parties that make them feel valued and inspire moments of delight in their lives. Our vision is a community that recognizes the transformative power of birthday celebrations for homeless children.
Each birthday celebration is made possible by EOB's team of dedicated and talented volunteers who create individualized birthday name banners, make custom t-shirts, bake personalized cakes, buy gifts from the children's wish lists, provide dress up accessories, goody bags, healthy snacks, educational workbooks, and more!

In addition to the birthday parties, EOB has its Extra-Ordinary Moms (EOM) and Extra-Ordinary Readers (EOR) programs. EOM is a recognition program for mothers dealing with homelessness. Its purpose is to inspire and motivate their self-worth through positive reinforcement, personal development and membership in a supportive community. 

Our EOR program encourages self-worth and forward thinking toward a bright future for homeless children through reading. We believe in supporting literacy for all children regardless of socioeconomic status, as well as pride in ownership of a new book.  Each child we celebrate gets 3 brand new, age-appropriate books.
Through personalized birthday celebrations, Extra-Ordinary Birthdays connects with homeless children from a place of happiness rather than their current circumstances. EOB is about giving children experiences that reinforce their sense of self-worth, self-esteem and importance.

For more information, or to make a direct contribution please visit http://www.extraordinarybirthdays.org/