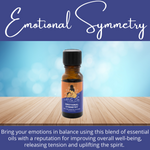 It's the Wooooo-sahhhhh you need at the beginning, middle and the end of the day! Emotional Symmetry is here to balance those up and down emotions so you can be more at peace and productive! We all get really excited when we see Helichrysum (the cure) in a blend and this blend has it all! Helichrysum, is the star of this blend, known to relieve the mind of nervous tension, while activating the body's natural desire to transform in a positive way! Relax your mind as you also experience the soothing powers of Vetiver, Geranium, Cedarwood, Orange, Coriander Seed, Cardamom and Lavandin! Try this exhilarating recipe to give you the emotional boost you need! 
Emotional Boost
Apply to the forehead and temples, back of the neck, shoulders and underneath the feet as often as needed for an emotional boost. Dilute as necessary for sensitive skin. Apply especially at bed time.
Add 10 drops to your Mila Eve Essentials diffuser during the day for aromatherapy to promote positive energy and balance.
Other New Essential Oils added this month: