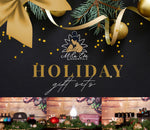 Have you heard? We have new holiday gift sets available just in time for the holiday! Perfectly priced and well thought out gifts for self-care, our new bundles will leave your loved ones speechless, mentally free and smelling good!
Aroma Buddy Bracelets Gift Set
Wear your aromatherapy with our adjustable Lava rock bracelet paired with a gold-plated ball beaded bangle for men and women. Start your wearable aromatherapy journey with four 5ml essential oils. This set includes a choice of paired Lava Rock Bracelets and 4 essential oils (Namaste, Positivity, Grapefruit, and Eucalyptus 5ml Essential Oils & Blends).
Traveling during the holiday can be stressful on the mind and the body. Give the gift of Peace, improved breathing, a boost for the immune system and better sleep with our easy to apply roll-ons and our silky smooth massage oil great to relieving tension and sore muscles! Perfect for your purse or pocket, our 8ml roll-ons are simple to use and quite effective, especially when you're on the go.
This set includes:
Ultimate Oiler Holiday Gift Set
Perfect for essential oils enthusiasts, this kit offers a variety of some Mila Eve Essentials favorites and items that are not available for purchase in our store such as our new Vegan Crocodile Leather Travel Tote! This extra large tote can hold as many as 60 essential oil bottles or your Ultrasonic diffuser plus a minimum of 10 essential oil bottles. It conveniently doubles as a toiletry bag!
This set includes: