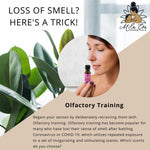 Regain your senses by deliberately retraining them with Olfactory training. Olfactory training has become popular for many who have lost their sense of smell after battling Coronavirus or COVID-19, which utilizes repeated exposure to a set of invigorating and stimulating scents. Which scents do you choose? It is recommended to use one scent from the following categories: floral, fruity, resinous, and spicy.  
Floral: Rose 3% or Geranium essential oils
Fruity: Orange or Lemon essential oils
Resinous: Eucalyptus Globulus essential oil
Spicy: Clove essential oil
Twice daily, you want to sniff each scent one at a time for 20 seconds each. As you take in the first scent, close your eyes and visualize what it is you're smelling. For the floral scent of Rose, envision roses, rose petals, a bouquet of roses, or even look at a picture of a rose. Train your mind to trigger the nose to smell what it is you are visualizing. One by one go through each essential oil. Carefully sniff from the bottle or place a drop on a napkin and inhale the scent. Be fully present in this moment with no distractions. Do this every day, twice a day.
Use your Mila Eve Essentials diffuser throughout the day to reinforce the scents you are using for your smell training. Try this recipe in your diffuser:
Add 5 drops of Rose 3%
4 drops of Lemon
5 drops of Eucalyptus
4 drops of Clove
Let us know how this practice works for you and how many days it took for you to regain your senses!