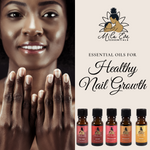 If you're suffering from cracked, dry, brittles nails that struggle to grow, we have some essential oils that can help! This list includes essential oils with anti microbial and anti fungal properties that will allow for healthy nail growth for your fingernails and toenails. 
Myrrh- Helps to prevent breakage
Frankincense- Moisturizes the cuticle 
Lemon- creates a beautiful shine on your nails while also stimulating blood flow  
Tea Tree- fights fungus underneath the nail bed which creates a healthier nail. A great choice when battling any fungal infection in the fingernails and toenails. 
Ravensara- fights fungal infections and works wonders when paired with Tea Tree. 
RECIPE:
Add 5 drops to one Dram of Mila Eve Essentials Fractionated Coconut oil of any combination of the essential oils listed above. Apply to nails twice daily after washing your hands. Massage the mix into each nail and cuticle.