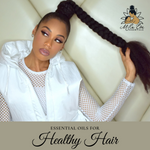 You've been asking about essential oils for haircare and we've finally compiled a list of some amazing oils along with their qualities!
We recommend a dilution ratio not to exceed of 6-9 drops of essential oils (in total if you're using a combination of essential oils from the list below) for every 1 ounce of carrier (shampoo, conditioner, oil, natural cream). 
Anti-microbial agent, inhibits the growth of bacteria—thus, the scalp remains clean, healthy, and absolutely perfect for hair growth.
Stimulates the scalp and increases circulation.
Soothes the scalp and prevents stress related hair thinning.
Has astringent properties that can help keep the hair squeaky clean in between washes.
Moisturizes brittle hair, strengthens thinning hair and infuses each follicle with Vitamin C.
Stimulates your scalp and hair follicles. Also stimulates blood circulation to the skin, which can help with increasing dermal thickness, follicle number and follicle depth.
Stimulates hair growth by dilating the blood vessels and promoting cell division in the scalp, thus delivering the nutrients and oxygen needed for follicles to grow. Soothes dry scalp.
Soothes an itchy scalp, reduces dandruff and flaking, improves blood flow and allows nutrients to reach hair follicles, balance the pH level of the scalp, and stimulates the hair growth cycle to give you a head full of strong healthy hair.
Reduces inflammation on the scalp and hair follicles and makes for an overall healthier scalp and ultimately a healthier environment for hair to grow.
Balances oil on the scalp, strengthens the hair follicles, and conditions the scalp.