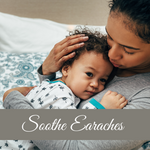 Here are some helpful recipes for earaches, swimmer's ear and other ear discomfort. Especially for children, check out this article, "Ear Infection Nightmare" for more detailed information on ear infections in young children and natural alternatives. 
For Earaches
Soak a cotton ball with Fractionated Coconut Oil
Add 1 drop of Helichrysum (or 4 drops of Helichrysum 10%) and 1 drop of Tea Tree in the palm of your hands.
Roll the soaked cotton ball in your hands to absorb the essential oils
Safely cover the ear opening with the cotton ball
Rub the excess oil around the outside of the ear for relief.
Do this as often as necessary for relief. You can replace the cotton after 10-15mins.