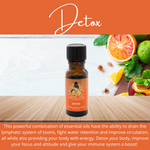 The Detox Essential blend consists of some very powerful "cleaning" oils that can detoxify your entire system! Here's the breakdown:
Grapefruit: Reduces blood pressure, diuretic, antidepressant, stimulant
Orange: Immune system booster, antidepressant
Juniper Berry: Diuretic, supports urinary tract, encourages positive kidney function, antispasmodic
Patchouli: Anti-inflammatory, libido booster, increase metabolism, anti-bacterial
Rosemary: Anti-inflammatory, pain reliever, improves liver and gull bladder functions
Lemon: Anti-bacterial, anti-inflammatory, increase energy, lymphatic system stimulant
Maychang: Anti-viral, anti-bacterial, fights infections, anxiety relief
Black Pepper: Antispasmodic, improve digestive health, remove toxins through increased urination and sweating, antioxidant
Vetiver: Boost metabolism, immune booster, improves nerve health, skin cell regenerator, calms anxiety
Check out the many ways you can use Detox Essential Blend to Detox Your Body:
Detox Your Body
Add 20 drops of Detox
to 1oz of Mila Eve Essentials Fractionated Coconut Oil
Apply this mix down your spine, underneath your feet and/or to your abdomen as often as needed to detox your system.
Drink plenty of water during this time.
Detox the Air
Add 10-12 drops of Detox
to your Mila Eve Essentials diffuser for air cleansing and aromatherapy. For larger diffusers, you may increase the drops. 
Bath Soak
Add 10 drops of Detox
to 1/2 Cup of Epsom Salt to your bath and soak no longer than 15mins. This is important as you do not want the toxins released during bath time to re-enter the body, causing weakness and drowsiness.
Follow with the "Detox Your Body" recipe listed above.
Drink plenty of water and stay hydrated as your body purges toxins.