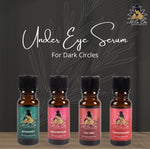 Under Eye Serum for Dark Circles
Add 4 drops of Rosemary
8 drops of Tea Tree
10 drops of Helichrysum (or 15 drops Helichrysum 10%)
10 drops of Frankincense
to 1oz bottle filled with Jojoba or your favorite carrier oil
Apply

serum daily (especially before bed) to treat acne, acne scarring, dark under eye circles, baggy under eyes, fine lines and wrinkles. Avoid the eyes when applying. Frankincense can also be used and applied neat for under eyes. Dilute for more sensitive skin.