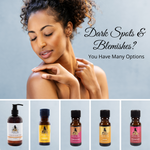 Get rid of those annoying dark spots and blemishes using some of our favorite essential oils and products for skincare! Take your pick!
Flawless Glow Toner - 100 % pure essential oil infused rice water protects and soothes your skin by creating a natural barrier on your skin and protecting it from UV rays and other harsh environmental elements. Great for even toning the skin.
Flawless Skin Essential Blend- Perfect for all skin types, Flawless Skin is the ultimate combination to balance oils naturally produced by your body's sebaceous glands.
Turmeric- Add Turmeric to your daily skincare routine to even tone the skin and lessen the appearance of hyperpigmentation, fine lines, wrinkles and age spots.
Lemon- A wonderful astringent for skin that can treat acne and even tone the skin, leaving it bright and glowing.
Frankincense- Fight blemishes and dark under eye with this meditative essential oil.
Helichrysum- Great for skin conditions, scarring, pain relief, inflammation and wound care as it restores and improves the skin.