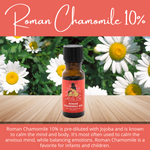 Roman Chamomile 10% is pre-diluted with Jojoba and is known to calm the mind and body.
Little Known Facts: There are two types of chamomile plants, Roman and German. Roman Chamomile is a perennial plant while, German Chamomile is an annual plant. Both plants are used for calming, relaxation and to enhance the healing of the skin.
Skin Soother
Add 12 drops of Roman Chamomile 10%
4 drops of Lavender
3 drops of Geranium
to 1 oz of distilled water or 1oz of your favorite carrier oil
apply as needed for sunburn relief or to soothe the skin.
Add 3 drops of Roman Chamomile 10%
1 drop of Lavender
to 1oz of Fractionated Coconut oil (you can also use Mila Eve Essentials Jojoba oil or Almond Oil). Gently massage this mix to the scalp and leave for 10-15 minutes. Wash baby's hair with a gentle baby shampoo. If necessary, you can use a special cradle cap brush to gently loosen scales as you wash. For topical use, always dilute age-appropriate essential oils before applying with a carrier oil, water and natural, unscented lotions and creams.
Other New Essential Oils added this month: